Findlay VW Celebrates Women's History Month
With March being Women's History Month, Findlay VW Henderson decided to take the opportunity to shine a light on the lady drivers in the community, as well as the women that play a role in the local automotive industry.
Teaming up with She Rises Studios and the authors of the Becoming an Unstoppable Woman Series, the month was kicked off with Lady Driven First Friday at the dealership. Findlay First Friday is a monthly car meetup going back 20+ years, where Volkswagen enthusiast come together to catch up, check out cars, relax with friends and kick off the month. While everyone was invited, the goal was to have the female drivers out representing the car community, and the ladies delivered with some of the favorite Volkswagens of the evening!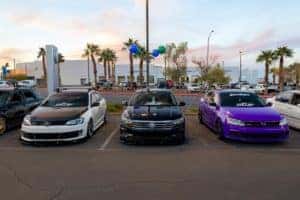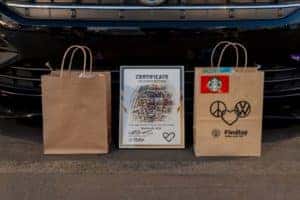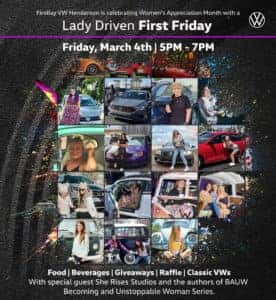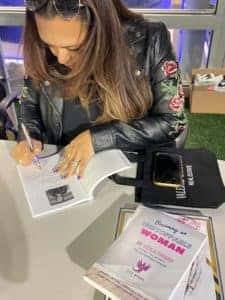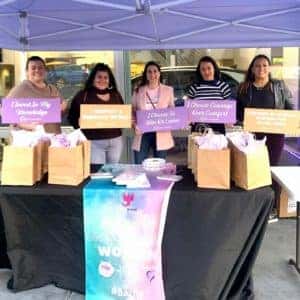 Along with the Lady Driven First Friday, Findlay VW female General Manager, Melisa Eichbauer, was invited to speak with Mercedes in the Morning's Women that Wow Wednesday, where the Mix 94.1 morning show honors Women's History Month by featuring women in the Las Vegas community who have done outstanding work (full transcript of interview below). A veteran in the industry for over 17 years, Melisa Eichbauer stood as the first and only female GM in the Findlay Auto Group for nearly 5 years until recently, when Findlay Hyundai Prescott welcomed the group's second woman general manager (Findlay Auto Group has 32 dealerships in 6 different states).
Findlay Volkswagen is now looking forward to continuing the celebration with a month long highlight on Women's History Month, which "was established to increase and spread the awareness of women's role in history and acknowledge the contributions women have made in society". Findlay Volkswagen's diversity initiative, which includes amplifying the voices of women working in the business, aims to be a leader and advocate for attracting and recruiting women in the auto industry, not only in the month of March, but all year round.
* * * * *
Mercedes: Good Morning Melisa!
Melisa: Hi. Good Morning!
Mercedes: Thanks for coming on the show this morning and we hope that we are not catching you at a bad time.
Melisa: No. Never.
Mercedes: We know that you are extremely busy. We are doing something for the month of March. It is Women's History Month and we are doing a segment every Wednesday where we are taking a look at women in our community that wow us. We're calling it "Women that Wow Wednesdays" brought to you by the Findlay Automotive Group and you, Melisa, are truly a woman that wows.
Melisa: Oh wow thank you so much, that's very kind of you to say.
JC: You do great things in this community and great things in the auto industry; what drives you? Is it your passion for cars? Is it your passion for people? Is it your passion for this community, or is it all of it tied together?
Melisa: You know, I think it's all of it tied together, but it's really rooted in people. Whether it's the people that work with me here at Volkswagen and giving them an opportunity to live their best lives and become their best selves and also doing, you know, running a great business where it is easy for customers to participate in the process and then translating that into great community work, it's just that it's a perfect collaboration.
Mercedes: I know the automotive industry is it's really male-dominated, let's be honest. I don't think there are a lot of female general managers out there and you've really climbed through the ranks. How has that… how has that been for you? Has it been… has it been hard or did you kind of have a smooth transition? Talk about your journey a little bit.
Melisa: You know, it definitely was challenging. I like to say you get forged by the fire and it's in those challenging moments where you kind of learn what you're made of and learn some really great lessons, but I've just entered my 17th year in retail automotive and it wasn't always easy, but it definitely has always been worth it and, you know, there's days where you kind of look around and say OK I'm kind of standing, you know, the cheese stands alone, but it also is opening some doors and opportunities and really standing out and showing people that there are…there's a path for them if they want it. So I take that very, very personally and that's a big thing I want… I want to be a good role model for people.
JC: I think you are Melisa, you and I had the opportunity to work together a little bit last year and I got to know some of your employees there, including Golden Pipes, who works over there with you. You inspire so many of your employees to do great things at the dealership in the community… who inspires you? Who do you draw your inspiration from?
Melissa: I really, without getting too emotional, I always say I want to live my life to be the person that my grandfather thought I was before he passed, and then I also have a six year old daughter and I just want to be exceptional in her opinion of me and so between those two people, and my super supportive husband, I want to show up for the world every day and be the best that I can.
Mercedes: What's one piece of advice that you would give to another woman who might be listening right now that might be kind of stuck? That wants… that looks up to someone like you that says "wow, Melisa, she is a trailblazer. She really opened some doors for people like me… how do I get there? What's the one piece of advice you would give?
Melisa: Stand in your truth's and lean on your values and when you know, at your core, who you are and how you want to show up, you will deliver on that and it will yield results in business and in life.
Mercedes: Thank you for being a woman who wows, Melisa, and in honor of Women's History Month, we are going to get you a personalized Mercedes in the Morning plaque from H&J trophies so you can proudly display to everyone that you are a woman who wows, and thank you to the Findlay Automotive Group for sponsoring this month-long segment. You are incredible and thank you for all you do.
Melisa: Thank y'all, for doing that and highlighting, so many awesome women in our community. It is really humbling so we appreciate it.
JC: Thanks Melisa.