Findlay Volkswagen Henderson partners with Miracle Flights in a BIG way.
Findlay Volkswagen Henderson and Miracle Flights are proud to launch their "Peace & Love" partnership with the official "unveiling" at the April 2022 Findlay VW First Friday Car Meet. The kick-off event added to the monthly Volkswagen car meet with the Miracle Flights Ambulance, the mascot, Miles, and the uncovering of the 4ft tall Miracle Flights PEACE and LOVE signs in front of the Findlay VW dealership. These pieces (which make for a great photo opp) will remain fixtures at the dealership over the next 3 months to raise awareness for the non-profit and to promote peace and love within the community.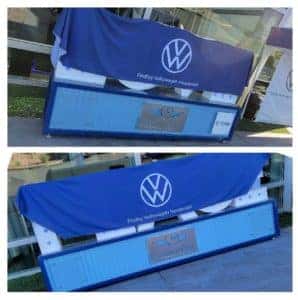 The beautifully finished, custom made signs, constructed by Sin City Scenic, were originally a part of a Miracle Flights holiday setup in Summerlin, NV. After the holidays, the signs were set to be sent to storage until the next year, however, Miracle Flights found them too stunning to tuck away for so long. That's where Findlay VW became involved. The words, specifically PEACE and LOVE, became the perfect fit for Findlay VW and a great way for the dealership to support Miracle Flights.
Findlay VW General Manager, Melisa Eichbauer says:
"We are so excited to continue supporting our partners and friends at Miracle Flights, and are honored to have the opportunity to help children in need of the Miracle Flights services."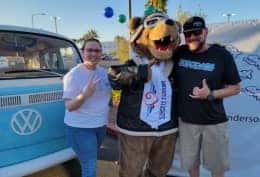 Marketing Director, Marcy Colletti explains the correlation:
"The dealership formally changed its tagline from "Meet Me at Findlay VW" to "Peace, Love & V-Dub" back in 2019 under our General Manager, Melisa Eichbauer. This change came with a whole new branding approach for the store, and it was at this same time that we shifted away from the traditional dealership "Mission Statement" and decided instead to set our values inside the parameters of our Purpose Statement [see full purpose statement below].
Over the past few years, Findlay VW has supported Miracle Flights' goal of offering free flights to children in need of life-changing medical care not found in their local communities. Seeing how much the organization does for these families, we decided we wanted to become a more prominent partner, starting with the sponsorship and utilization of the PEACE and LOVE signs. It was great to see our entire team was on board, and at the launch, all employees showed up in their "Cure For Distance" Miracle Flights shirts. In addition to the signs and employee support, Findlay VW has committed to raising funds and awareness by selling the Miracle Flights Miles Bear plushes and paper airplanes here in the store. 100% of the proceeds from sales will go directly to Miracle Flights."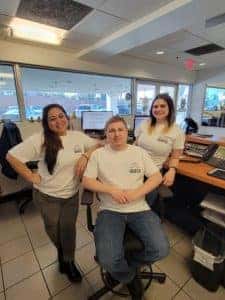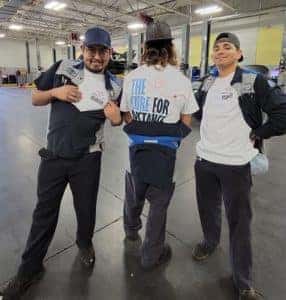 The Miles Bear is also presented to children in need of Miracle Flight services, and comes with goggles, an aviator jacket, a helmet and a scarf.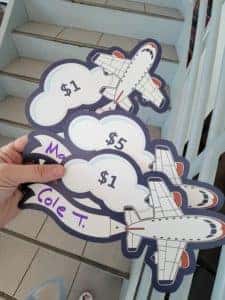 Miracle Flights CEO Mark Brown further explains the organization:
"Miracle Flights provides commercial air travel to sick children and their families to obtain specialized medical care. Many of the children we fly have rare and life-threatening conditions. There may be only one doctor or hospital in the country that treats these conditions. We provide free airline tickets as many times as needed. We average around 700 flights a month throughout the country. Any sick child up to age 18, anywhere in the country.
We have certain income requirements, and patients must have a referral from a local physician. In certain circumstances, we fly adults for specialized medical care, as well as veterans. We also have a service dog retrieval program, where we fly patients of all ages for training or retrieval of their service dogs.
Miracle Flights fills a huge gap in our country's health care system. If you have a child who is diagnosed with a life-threatening medical condition, it is a heartbreaking and life-changing event. When you are told that there is help but it is only available across the country, this for many families is an insurmountable logistical challenge and huge cost. There is no private insurance or government program that covers the cost of transportation to and from these medical appointments.
Miracle Flights is the only organization in the country that fills this gap by providing free airline transportation to children and families to receive this distant medical care.
We like to say "We have a cure for distance"."
If you want to support Miracle Flights locally, Findlay VW invites you to enter the "Summer of Peace & Love Giveaway", where you can win a prize pack that includes 2 round trip plane tickets to anywhere in the US, a $500 hotel gift card and VW travel swag to help you on your trip:
There are a few ways to win!
– Test drive a Volkswagen at Findlay VW between now and the end of June
– Purchase a Miles Bear plush to support Miracle Flights,
– Purchase a paper airplane and hang it on our wall at Findlay VW
– Like and follow us on Facebook and Instagram

For more details, visit: https://miracleflights.org/vwsummer/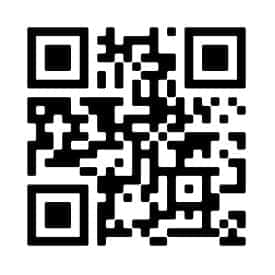 Be sure to come by our store for your photo with our PEACE & LOVE signs today!
Findlay Volkswagen Purpose Statement
On Purpose
Provide valuable experiences to our guests and team members.
Operate a profitable business, but always make a fair deal.
Encourage philanthropy through our action and reach of voice.
Be an asset to our communities.
Spread Peace, Love & V-Dub!