Findlay Volkswagen Henderson hosts Skills USA competition
Findlay Volkswagen Henderson hosted the SkillsUSA competition for the fourth time on February 8th at the community-oriented dealership in the Valley Automall.
The event presented by Clark County School District consisted of ten different work-stations modeled after the Automotive Service Excellence (ASE) certification exams and attracted a strong field of contestants. With 19 students from six different local high schools.
Categories included knowledge of braking systems, suspension, and air conditioning as well as a mock job interview.
"By partnering with the business community, Career and Technical Education programs invest in students by providing them access to the latest technology and they develop skills that will help them create a successful future," said Findlay Volkswagen Henderson's fixed operations manager John Gonzalez, who added that the competition and scores were very close. "The event has become a must-attend for many students over the years."
Gonzalez, a long-time Findlay Volkswagen manager, has hired about a dozen students over the past four years and retained more than half at Findlay Volkswagen Henderson.
"Programs such as Skills with tasks outlined by the National Institute for Automotive Technicians Education Foundation (NATEF) provide our local students with so much opportunity. For some of these students, traditional secondary education or college may not be in the cards," said Findlay Volkswagen Henderson general manager, Melisa Eichbauer.
"Witnessing our county's local stand-outs is proof-evident of their commitment to learning the trade and their work ethic will secure a bright future for them as well as our industry!"
One of the prior student-contestants Findlay Volkswagen hired shortly after the competition four years ago recently purchased a home for himself, his mother and siblings.
"The student's technical skills and determination allowed him to move his family from an apartment and into a single-family home," said Gonzalez. 'This is a wonderful opportunity for someone wanting to earn a competitive wage. As the skill levels increase, so do the earnings."
Findlay Volkswagen is headed by general manager Melisa Eichbauer. The dealership is part of Findlay Automotive Group that includes 32 dealerships in Nevada, Utah, Arizona, California, Idaho and Oregon.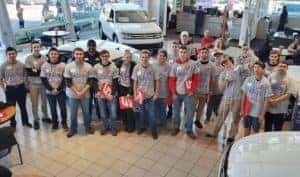 CAPTION: Graduating students of the SkillsUSA Auto Tech Competition celebrate graduation Feb. 8 at Findlay Volkswagen Henderson in the Valley Automall.