Continuing the partnership with Miracle Flights
In a recent chat, Miracle Flights and Findlay VW talked about their partnership with the radio show Neon and Beyond with Steph MacKenzie. "At Findlay Volkswagen, we believe in giving back to our community," says General Manager Melisa Eichbauer. "We are happy to partner with Miracle Flights."
Check it out:
Steph: Good morning everyone, this is Neon and Beyond! You're at the right place at the right time to get you up close and personal with great things that continue to happen here in Clark County Southern Nevada and the greatest state ever that is, Nevada. I have some amazing women who are lined up ready to rock 'n roll with us in our next journey and some really cool events that are going on. I'd like to say good morning to Donna K. She is the mom of little Levi! [Levi] is a brand ambassador for Miracle Flights! Donna, good morning to you!
Donna: Good morning. Thank for having me on!
Steph: No problem, I'm excited to hear your story this morning! And Kathy R! She is a special events and partnership manager for Miracle Flights! So, we're going to dive into what Miracle Flights is all about. Kathy good morning to you.
Kathy: Good Morning!
Steph: And Melisa Eichbauer! She is just my special little angel and is no stranger to Neon and Beyond. [She is] doing amazing things at Findlay Volkswagen Henderson, and kind of putting this all together. Melisa, good morning to you my darling.
Melisa: Good morning to you, Steph.
Steph: I appreciate you all coming on this morning with some really cool events that are happenings. Melisa, we're going to kick things off with you and Findlay Volkswagen Henderson. You have some really cool stuff going on. First and foremost, I just want to remind everyone that we have this partnership with [Findlay VW] and you guys continue to come on and you keep just going and going and going with great community partnerships here in Las Vegas. I really wanna emphasize that to everyone listening this morning, that Findlay Volkswagen has just done some amazing hands on community events to just make our community even…even smaller I guess maybe is the right word? And stronger, and you guys are doing such great things Melisa! So first I wanna thank you for that.
Melisa: Well thank you for saying that. It's really part of our core purpose and we certainly want to deliver a great experience when it comes to selling and servicing vehicles, but more than that we are members of this community and this community matters so much. And I love how you said it makes it smaller. Clark County continues to grow and welcome new residents and we want everyone to know that this is a place that's full of love and it's full of community and partnership. So when we have an opportunity to work with organizations like Miracle Flights, we want to step in to that role and deliver on our ability to do that and bring people together and show them how they can be part of this amazing Southern Nevada community.
Steph: Absolutely. Now, of course, I love the story behind the story and Melisa, what's that story behind the story of how Miracle Flights came to be the special [partner] and how did you start working with them on this great charity.
Melisa: So we have had an opportunity to… I personally had an opportunity to meet a member of the Miracle Flights team through a organization a partnership with the Henderson Chamber of Commerce and learning about it and how they provide flight to people in need of life-changing medicine that they can't find in their local community. It was just mind blowing because you think about being a parent, and I'm sure Donna will share some of this, or being a person who needs medical care and especially medical care for your child and the idea of having to arrange travel. Having to arrange travel to go on vacation is hard enough.
Steph: yaaaassss
Melisa: It's stressful enough, and then you add in the fact that you literally change or save the life of your child learning about Miracle Flight, I knew in that moment there was no way that we couldn't be a partner and that we couldn't find a way to help them. They are so deserving and the work that they do means so so much and makes me emotional.
Steph: Oh I love that, and how exciting for your paths to cross right now as far as Miracle Flights is concerned and what they've done in our community. Maybe people have heard of them because it's something that, in the past 22 years that I've been blessed to be in this community, you hear a little bit about. But let's find out more about them as we get over to Kathy R. the special events and partnership manager. Kathy, give us a little bit of history and background of how Miracle Flights came to be.
Kathy: Of course, of course. So we've been in Las Vegas for 37 years
Steph: Wow
Kathy: Miracle Flights started, you know what small planes and pilots that donated their time in their flight to fly kiddos. And over the years the need for flights expanded. About 10 years ago we switch to commercial, so when families need to fly anywhere for medical treatment, we buy their families a plane ticket. We fly both parents and the child or if there is an adult that needs treatment because we fly adults as well, we'll fly a caregiver to go along with them, and we'll fly service dogs. And so even through COVID, even to this day, we are a national charity, but with one little office based here in Las Vegas. We book about 700 to 750 flights every single month.
Steph: Wow!
Kathy: Oh, I know, and we fly a lot of families out of Las Vegas, but we fly a lot of families into Las Vegas for treatment as well. We've got a lot of great specialists here Las Vegas too, so we're bringing people in as well.
Steph: Oh my gosh, that is amazing, I had no idea. That is just great, and with this collaboration with Melisa and her whole team, I mean, how exciting for you guys.
Kathy: Melisa is a dream. She was making me teary-eyed when she cried. To have a partner that truly doesn't want to just write a check and be done, because we will take your check… to see her team really go above and beyond to integrate us into events that they're doing there and helping them connect us with their community, because while we're always raising funds to increase our flights, we are also trying to raise awareness to the people that might need our flights know that we exist. So all these events that Melisa and her team host at their dealership help us share that awareness. We had at least one person that didn't know we existed and needed a flight [saw us at the last Findlay VW event] and they put in application that night.
 Steph: Oh my gosh. This is just so amazing. This morning we are talking about Miracle Flights and a collaboration with Findlay Volkswagen Henderson. Melisa Eichbauer is with us and telling us how the dealership and Miracle Flights have come together. So now we know a little bit about what you guys have been doing. Melisa, tell us the events and how people could get involved before we check out Donna.
Melisa: Yes, so we started [the partnership with Miracle Flights], it really is a quarter long initiative to build awareness and connect people to the mission in and around the story of Miracle Flights, and of course we want to have a little bit of fun with it because that's the Volkswagen way, right? Peace, Love and V-Dub. So we had invited Miracle Flights and the crew to come out to all of our First Friday events, which happen, of course, the first Friday of every month. They're out meeting the community, sharing their message and connecting to people. And then in addition to that, we have a lot of opportunities to enter into a contest where we will be doing a drawing on July 1. It is 2 tickets to anywhere in the continental United States, some spending cash and some VW swag to go on a vacation and enjoy some summertime. So really, just bringing everybody together and having a little bit of fun while we do it.
Steph: I love this. Now, are we going to see a lot of those (total side note), the vans that you guys have rolled out? I love those things.
Melisa: We are eagerly awaiting I.D. buzz to hit the shores of America! They currently have a short wheelbase version available in Europe, and we're waiting for the longer wheelbase here, but we will share all the information we have on that of course.
Steph: All right, so two round-trip plane tickets anywhere in the United States, a $500 hotel gift cards and swag from Volkswagen. To get the rules, all you have to do is visit miracleflights.org/VWsummer and you can go there and find out all the details. Or, of course, better yet, how about go down and check out Findlay Volkswagen Henderson in their First Friday events, because they keep doing amazing things! So with all that being said, we'd love to hear a story from someone first hand, and that's where we get introduced to Donna. Good morning Donna, how are you?
Donna: Good morning, I'm fine, thank you for having me on.
Steph: I appreciate you joining us this morning. Now Donna is the mom of little Levi, and we talk about Miracle Flights and their mission and what they do, and like Kathy told us, over 700 flights a month, which just blows my mind, that's amazing! And brand ambassador, this little Levi, with over 30 flights. Donna, tell us how Miracle Flights came into your life and what they've done for your family.
Donna: OK, so before I had Levi, I was a nursery nurse, and I had to retire to take care of him. He's got a rare form of dwarfism… and we live in Ocean Springs, Mississippi, and we were having to travel to Chicago for medical care every 6 to 8 weeks when he was younger. We depleted our savings account, you know, maxed out credit cards and we have two older daughters that we were going to have to start going to dance and cheerleading. So at 2 o'clock in the morning, I was trying to find something, and Miracle Flights popped up and I filled out the flight request. When they called me to say that they could help, that was the first time that I've cried happy tears in a very long time.
Steph: Awwwwww
Donna: Levi was sick as a baby, and you know what it means to our family… Levi will even tell you, without their help, he would be bound to a wheelchair. It's increased his quality of life and we will forever be grateful for their help and for the businesses that partner with them like the Findlay VW doing this. You're not a one and done with treatments. 30 flights in and we still have more to go, because he's going to have to have more surgeries in the future, and stuff like that so it is life changing.
Steph: And how old is Levi today?
Donna: He is 16 now.
Steph: Awwwww.
Donna: Yeah, he doesn't have his drivers license yet because he's got optic nerve atrophy, but he drives the go cart around in the yard and it's hilarious. I was just thinking last night, my very first car that I learned to drive was a VW bug; a stick shift, my dad taught me.
Melisa: Nice
Donna: And I just think that this is so neat that y'all are having me on today.
Steph: I love this full circle, look how it's all coming back Melisa!
Melisa: You know, Volkswagen has been in people's hearts for decades, and it's a warm place to be, so we are grateful when we hear those Volkswagen stories from people and it really is an honor to be a part of an organization and a part of a family's life where [Volkswagen has had some kind of] impact to their life story. So it's really cool
Steph: Peace and love, right?
Melisa: Peace, love and V-Dub!
Steph: Peace, love and V-Dub. Now Kathy, before we let you go, for everyone listen this morning that would need your services or would like to get involved and volunteer or any of the above, how do we do that?
Kathy: The easiest thing is going to our website. Going to miracleflights.org and from there, there will be event pages, there are contact forms if you want to volunteer. But like you said, too, Melisa… heading over to the Findlay Volkswagen dealership, Melisa's got everything. There we have these little plush bears that we give all of our families when they fly to travel with them on the airplane and sit in the hospital with them, and Melisa's team has them on site. They're raising money with those for us. So the website or head over to the Findlay Volkswagen in Henderson.
Steph: Awesome Kathy R. special events and partnership manager I appreciate you coming on today that's awesome. And Donna thank you and please give Levi lots of love and hugs from us the mom of little Levi brand ambassador with over 30 flights and Miracle Flights doing great things for their family thank you Donna.
Donna: Thank you.
Steph: And Melisa, tell us again how we can get involved right here at Findlay Volkswagen Henderson, and what you guys have going on to benefit Miracle Flights.
Melisa: Yes, you can come down, you can enter to win that awesome vacation here on site like Kathy mentioned, you can pick up your own Miracle Fights plush bear. They're super cute and fun and all proceeds, 100% of any proceeds, go towards Miracle Flights. Come out to our First Friday events. You'll get to meet the Miracle Flights team! You'll get to meet some more of the Findlay Volkswagen team, and always check us out at findlayvw.com You can also get us on our socials to see all the events and fun stuff we're doing: Instagram, Facebook @FindlayVW and then on TikTok @FindlayVWHendo, spelled out H-E-N-D-O.
Steph: Ooh Hendo! Melisa, what time do the First Friday parties kick off?
Melisa: 6 o'clock. 6 o'clock on Friday the first Friday of every month, and we generally have some good snacks and food as well. It's a great environment, it's family friendly, and you get to not only meet everybody, but also check out some cool old Volkswagens… maybe even see a car similar to what Donna first learned how to drive in! Cool Beetles and Buses come out, and it's always a good time .
Steph: Will we be playing the Slug Bug game?
Melisa: No, ha. We don't condone violence. I loved that you asked that, though. We can do a…. how about we change it up. We will make a game called the HUG BUG game.
Steph: Oh, Hug Bug! All right, well Melisa Eichbauer, Findlay Volkswagen Henderson GM. I really appreciate all of you coming on. Melisa, thank you for just diving in and doing great things, like a partnership with Miracle Flights and how you continue to do great things each month. I appreciate you all coming on this morning!
Donna, Kathy, Melisa: Thank you.
Melisa: Thank you Steph, and thank you for what you do for the community in sharing these organizations.
Steph: No problem!
Melisa: In Southern Nevada. All of Nevada. You are a gem.
Steph: Oh, thank you honey, and you left me with peace and love and V-Dub. I love this. Thanks ladies, have a great day!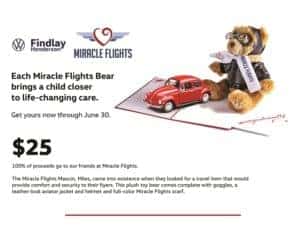 Findlay Volkswagen is proud to be a part of the community is committed to making a difference in the lives of others as we services the greater Las Vegas/Henderson area. We believe in giving back to the and making a difference.
Findlay VW is especially proud to support Miracle Flights. To learn more about how you can help, visit their website at miracleflights.org or FindlayVW.com.
Thank you for your support!