New Volkswagen Jetta Offers State-of-the-Art Safety Features & Technology
By Product Expert | Posted in Safety, Volkswagen Jetta on Wednesday, March 28th, 2018 at 2:46 pm
2019 VW Jetta driver assistance features & details
When shopping for cars today, drivers are amazed at the features available. While every driver might not need the available $32,000 Mulliner picnic basket and set that comes in the Bentley Bentayga, all drivers can appreciate state-of-the-art technology designed to keep them and others on the road safer. The 2019 Volkswagen Jetta was recently debuted at the Detroit International Auto Show, and there are more and more details for us to let you in on. The team here at Findlay Volkswagen wants you to be fully informed, so we put together this overview of the 2019 VW Jetta driver assistance features and details. Keep reading this blog post to learn more!
Check it out: [ Does the 2019 VW Jetta offer all-wheel drive? ]
Advanced safety technology
Driver Assistance features combine a number of advanced technologies including exterior sensors, automated driving, and more. The 2019 Volkswagen Jetta features a number of available driver assistance features. Check out details of how they work and which technologies they utilize below.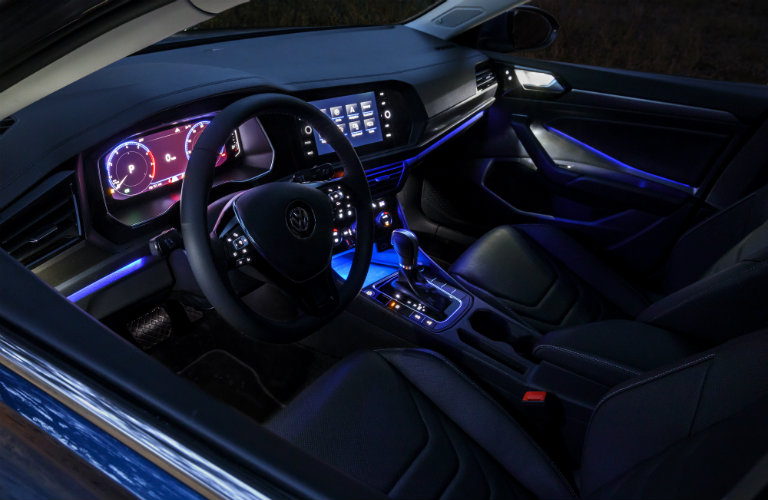 Adaptive Cruise Control
Adaptive Cruise Control (ACC) is a feature which allows drivers to maintain a set distance between themselves and the vehicle in front of them. When a driver turns this feature on, it uses sensors on the front of the vehicle to detect the movement of the vehicle in front of you. If the front vehicle slows down or speeds up, your 2019 VW Jetta will respond in kind. If drivers opt for the available Stop and Go feature, your vehicle can slow itself to a complete stop, and continue driving if the vehicle in front of you does so.
Blind Spot Monitor
VW's innovative Blind Spot Monitor technology uses sensors located towards the back of your vehicle to detect and react to hazards or traffic in your blind spot. If you're driving on the highway or a city street, and want to change lanes, Blind Spot Monitor assists you by detecting another possible vehicle. If something is found to be in your way, your steering wheel will vibrate, and your rearview mirrors will display a warning. If a vehicle is detected (within the limits of lane assist) your 2019 VW Jetta will be able to counter-steer you back into your current lane of travel.
Light Assist
Many drivers can relate to the struggle of being blinded by an oncoming driver who doesn't turn on their high beams. With High Beam Control (Light Assist) you'll never be "that guy." This feature uses a camera at the front of your vehicle to automatically turn on high beams on dark roads. When it detects an oncoming vehicle, it automatically turns high beams off, as well.
Read more: [ How to pair your iPhone to your Volkswagen with Apple CarPlay ]
Lane Assist
VW's available Lane Departure Warning (Lane Assist) uses advanced technology to learn your driving patterns. When it notices that you are drifting more than usual, and going into other lanes without using a turn signal, the steering wheel will vibrate to warn you. Within the limits of the Lane Assist system, it can also use autonomous driving to steer you back into your own lane.
Rear Traffic Alert
Rear Traffic Alert is your best friend in your favorite department store parking lot. This feature uses sensors on the rear of the vehicle to detect oncoming traffic from either side when backing out of a parking spot or driveway. If needed, this feature goes as far as braking your vehicle to avoid a possible accident.
You might also like: [ When will the 2019 VW Arteon be available? ]